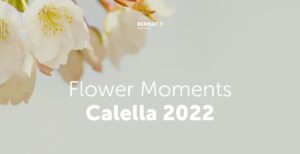 Do you know Flower Moments in Calella?
This weekend Calella celebrated the long-awaited Moments of Flowers, a recent tradition in our town that has already been taking place for several editions, filling the streets with colour, filling them with aromas and creating beautiful contrasts.
These are two very special days, since although during the rest of the year we can escape among the trees of Dalmau Park or be enraptured in Bruguera street with the flower gardens between buildings, during these two days we can also enjoy the balconies, terraces and gardens decorated by the neighbours who join the initiative.
On this occasion we have 48 hours to visit all the most emblematic corners, both public and private, which have been decorated for the occasion, and which exceptionally open their doors so that visitors can also enjoy these works of art, some temporary and some lasting.
With the help of gardeners, Calella's florists and landscapers, more than 18 spaces in Calella are adorned with floral motifs. These are the spaces that have been visited in this year's edition:
– Museum of Tourism
– Pia School
– Sant Quirze and Santa Julita Chapel
– Can Prat
– Courtyard and stairs of the Can Salvador de la Plaça Library
– Can Marrè
– Balconies of Can Saleta
– Balcony of the Old Town Hall
– Balcony of the Town Hall
– Church Square
– Balconies of Can Campaneria and Can Nualart
– Balcony of Can Basart
– Josep M. Codina i Bagué Municipal Archive Museum
– Lighthouse of Calella
– Can Borràs
– Dalmau Park and Muntanyeta area.
The Association of Traders of Calella also participates in this unique celebration by dressing up the shops with different flowers, decorations and colours.
If you enjoy celebrating important days with bouquets of flowers, if you take care of your plants as one of your most precious assets, or if you wait all year long for the ephemeral spring, you can't miss these two days in Calella!
We leave you with a small tasting of what we have experienced this weekend.